NEWS
コムデのお知らせ
2020.07.15
We have acquired the privacy mark certification.
On March 11, 2016, Commude Co., Ltd. acquired the Privacy Mark certification from the Japan Information Processing Development Corporation (JIPDEC).
Privacy mark system is suitable for businesses, etc. that have established a system to take appropriate protection measures for personal information in conformity with Japanese Industrial Standard "JIS Q 15001 Personal Information Protection Management System-Requirements". , It is a system that allows the use of privacy marks to that effect.
Commude Co., Ltd. recognizes that the protection of personal information entrusted to us in our business is an important responsibility, and personal information protection management is becoming increasingly important to society. We are working hard to ensure.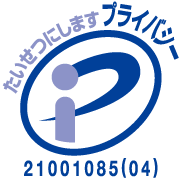 Certification date] March 11, 2016
[Certification number] 21001085 (04)
Commude Co., Ltd. will continue to maintain and strengthen the system for properly handling personal information as a privacy mark certified business operator.